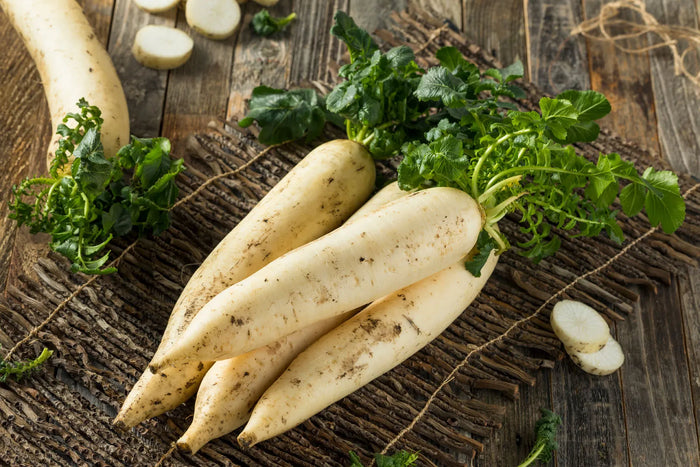 Servings 2 | Prep Time 5 Mins | Cooking Time 5 Mins
½ cabbage, about 3 cups sliced thin 
1 daikon radish, peel 
½ a yellow onion  
2 garlic cloves, minced  
1 teaspoon oil of choice 
1 teaspoon soy sauce, or a similar sauce 
1 teaspoon sesame oil 
1 teaspoon vinegar of choice  
½ teaspoon red chili sauce, or chili flakes, optional 
1 teaspoon sesame seeds, optional garnish  
Cut the peeled Daikon Radish into thin slices. Stack up and slice into matchstick strips. 
Heat the oil over medium heat in a wok or large skillet. Toss in the sliced cabbage and daikon radish sticks. Sauté for 4-6 minutes until wilted and almost turning golden. 
Season with soy sauce, sesame oil, a splash of the rice wine vinegar and red chili paste (for spiciness). Taste and add more of any item to your own personal taste. 
Sprinkle on sesame seeds as a garnish and bit extra crunch.