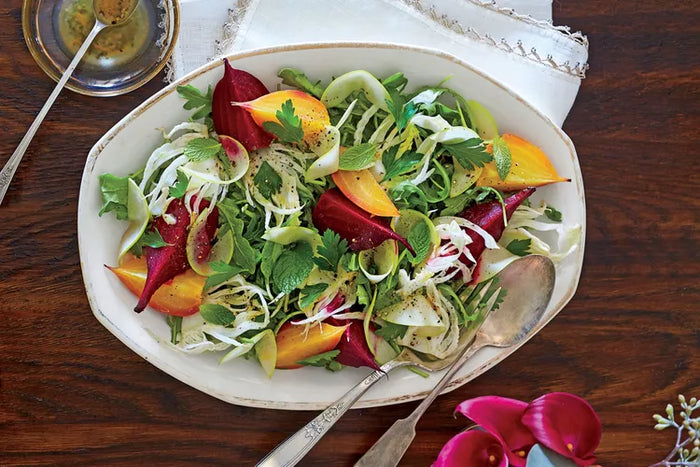 4 Servings | Prep Time 15 min | Cook Time 50 minutes |
3-4 medium-size beets

medium to large fennel bulb, trimmed halved lengthwise and cored

1 medium-size Granny Smith apple, halved and cored

1/4 cup firmly packed fresh flat-leaf parsley leaves

1/2 cup packed mizuna cut into bite sized pieces
Dressing
1/4 cup extra-virgin olive oil

2 tablespoons white wine vinegar

1 teaspoon orange zest plus 1 Tbsp. fresh juice (from 1 orange)

3/4 teaspoon kosher salt

1/2 teaspoon honey

1/4 teaspoon black pepper
Preheat the oven to 400 degrees F. Trim and scrub the beets. Rub each one with a tiny bit of olive oil all over the skin, then wrap each one in aluminum foil. Place the foil packets on the center rack of the oven. Roast for 45 to 60 minutes until tender. Small beets take less time than large beets to roast. When the beets are finished roasting, remove them from the foil packet and rub your hands over each one to remove the skin (it should glide off without too much effort). If they are too hot to touch, run them under cold water while you take off the skin.
2.While beets are cooling, use a mandolin or sharp knife to cut fennel bulb and apple into very thin slices. Cut bite sized pieces of mizuna. Place in a large bowl with beet wedges, parsley and mizuna.
3.Once cooled cut beets into wedges.
4.Whisk together oil, vinegar, zest, juice, salt, honey, and pepper in a small bowl. Drizzle vinaigrette over beet mixture, and toss to coat. Serve immediately