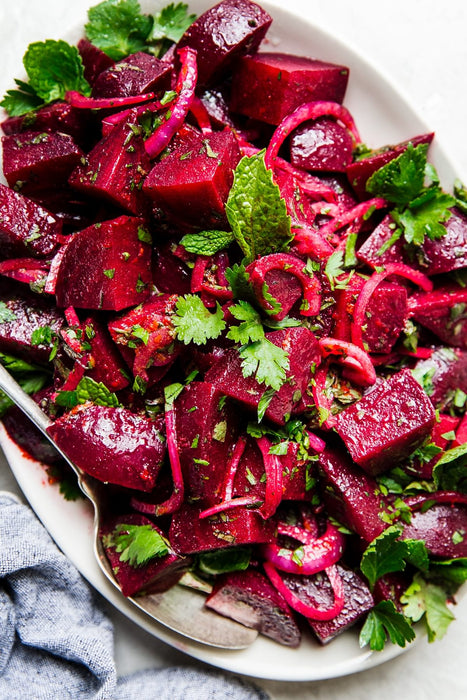 SERVINGS | PREP TIME 30 MINUTES | COOK TIME 1 HOUR 15 MIN
Ingredients 
4-5 medium beets
Lemon zest from one lemon
2 tablespoons freshly squeezed lemon juice
1 small red onion, finely diced
3 tablespoons freshly chopped Italian Parsley
4-6 tablespoons extra-virgin olive oil
Salt and freshly ground pepper, to taste
Place the oven rack in middle position and preheat oven to 425°F Tightly wrap beets in a double layer of foil and roast on a baking sheet until tender, about 1 to 1 1/4 hours (depending on size of the beets). Cool in foil package, about 20 minutes. Alternatively, whole beets can be roasted in a casserole dish covered with a lid. Meanwhile, in a medium bowl mix together lemon zest and juice, red onion and Italian Parsley. Stir in oil, season with salt and pepper and let stand while the beets finish roasting (or while they cool).
This gives the dressing enough time for the flavors to develop. When beets are cool enough to handle, peel them, rubbing the skin off with a paper towel, discarding stems and root ends, then cut into 1.5 cm wide wedges.
Transfer to a serving bowl to further cool.
Once the beets have reached room temperature, toss them with dressing. Taste and season with more salt and pepper, if desired. Serve and enjoy