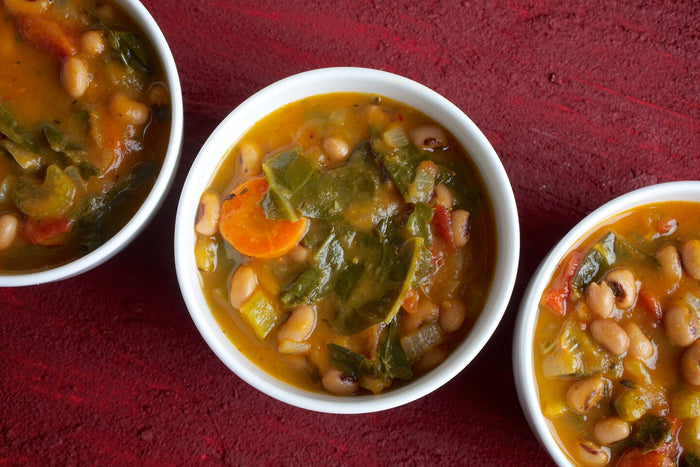 Ingredients 
5-6 Servings | Prep Time 15 min | Cook time 40 minutes |
12 cups low sodium vegetable broth

1 tablespoon extra-virgin olive oil

1 large onion, cut into 1/4-inch diced

1 1/2 pound (3 medium) sweet potato, cubed in bite size pieces

1 rib celery, cut into 1/4-inch slices

1 large carrot, scrubbed, trimmed and cut into 1/4-inch coins

3 cloves garlic, finely chopped

Leaves from 5 sprigs fresh thyme

1 tablespoon dried thyme

1/4 teaspoon crushed red pepper flakes, or more as needed

14 1/2 ounces canned, no-salt-added diced tomatoes, and their juices

2 bunches collard greens, stemmed and torn into bite-size pieces (about 8 cups; may substitute kale or mustard greens)

30 ounces canned, no-salt-added black-eyed peas, rinsed and drained

1/2 teaspoon fine sea salt, or more as needed
Heat the oil in a stockpot over medium heat. Stir in the onion, celery and carrot to coat; cook, stirring frequently, until the vegetables just begin to soften, 5 minutes. Stir in the garlic, fresh and dried thyme, and crushed red pepper flakes, then pour in the broth, along with the tomatoes and their juices and cubed sweet potatoes. Increase the heat to medium-high; once the mixture comes to a boil, stir in the collard greens. Reduce the heat to medium or medium-low so the liquid is barely bubbling around the edges. Cover and cook until the greens are tender and sweet potatoes are soft, 40 to 45 minutes.
 Add the black-eyed peas; cover and cook for 10 to 15 minutes, so the flavors meld.
Season with the salt, taste and adjust with more salt or crushed red pepper flakes as needed. Serve hot.
Low sodium or no-salt added canned lentils or chickpeas as well as canned kidney, navy, pinto or black beans can be substituted for black eyed peas.
 Adjust cooking time if using dried lentils.