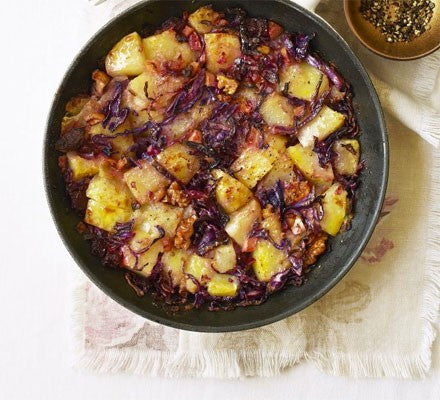 Ingredients 
1-2 pounds potatoes cut into cubes

2 red onions, diced

2 tablespoons of butter, plus more for pan frying

Half a cabbage (feel free to add more)

Season with salt and pepper and fresh herbs like rosemary, parsley, or green onion
Instructions
Boil potatoes until tender.
Melt the butter in a shallow frying pan, then fry cabbage and onion for a few minutes. Stir in the well-drained spuds with some seasoning, press down and carry on cooking to crisp the bottom and heat through.
Use a lid to help soften up the cabbage if needed. If you like, dot the top with a bit more butter and grill to crisp it up.
Tips - Use this recipe as a chance to experiment with spices like paprika or cumin, or use spices you're already familiar with. Add turnips to this dish, they can also be boiled and pan fried along with the potatoes.